From Meghan Walker with our sister site MyBallard
A new website aims to make it it easier for Seattle neighbors to connect and get things done around the house. Seattle-based start-up Knoq has developed a new type of social networking website, where users can find vetted local businesses that specialize in household services. The idea came from co-founders Karim Lessard and Ben Hanisko, who wanted to develop a tool to help foster more neighborly interactions.
 
Here's how it works: users sign up for free, create a profile, specify what kinds of household services they need (such as cleaning, yard work, or even in-home singing lessons), and then peruse the featured businesses that pop up based on that user's needs.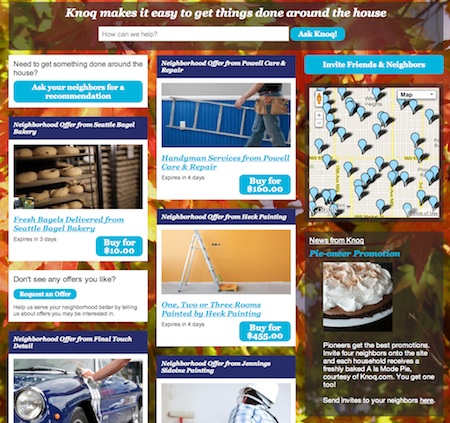 It might look similar to some of the daily deal sites, like Groupon, or Living Social, but Knoq's focus is more on keeping it local. "The problem is people don't interact the way we used to," Lessard said. "There aren't tools that exist to help you interact, and social networks have left that behind. That's where the idea was born; we're helping neighbors get things done in their house by connecting them with their neighbors and local businesses."
Every business on the website has been vetted by Knoq employees, and they back up those businesses with a money-back guarantee. So far, they have 55 businesses on the site, and earlier this month exceeded 1,000 users throughout Seattle.
"What we're trying to do is make it easy to make a good decision,"  co-founder Hanisko says. The types of businesses on the site offer one of two things, usually: a household service or delivery. "Our intent is not to replace neighborly interactions, but to compliment on it and make it more likely to engage in conversations," he says. Because each user's address is attached to their profile, Hanisko says he hopes it helps neighbors connect.
 
A common reaction, Lessard and Hanisko point out, is the concern for privacy. Each user must provide their address, which Hanisko says is important on a few levels. For one, it puts you in the right neighborhood, so you can find businesses in your area. Also, it's for credibility. "You're no longer, anonymous," Lessard adds. "By virtue of knowing the people around you, we think it increases the level of accountability." He says that a business recommendation from a neighbor carries more weight, because they likely live in a house that is similar to yours, and also likely deal with the same issues. "What they say might resonate with you," Lessard says.
 
The bottom line, they both agree, is to foster community through helping local businesses. "We strive to be neighborly in every way," Hanisko said. "Our ultimate goal is to increase the quality of life, and get things done with less hassle. If we're more connected, it's good for the neighborhood."