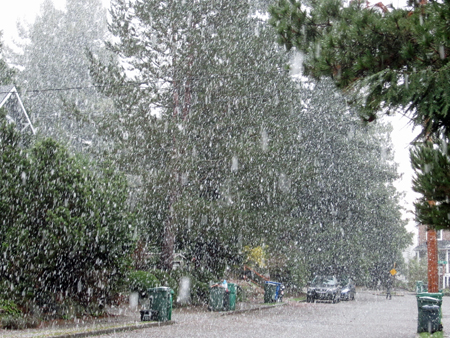 Update 10:35 a.m.: A new short-term forecast from the National Weather Service.
JUST INLAND FROM THE WATER AND AREAS WITH A COUPLE HUNDRED FEET ELEVATION OR MORE COULD SEE LOCAL ACCUMULATIONS OF AN INCH THROUGH EARLY AFTERNOON. THERE ARE INDICATIONS THAT THE MAIN FOCUS OF RAIN AND SNOW SHOWERS WILL SHIFT A BIT FURTHER SOUTH OVER THE EVERETT AND SEATTLE METRO AREAS EAST TO THE FOOTHILLS THIS AFTERNOON.
——————————————————-
Snow steadily at 9:15 a.m. Slowing by 9:25.
Special forecast for a cold night, but a sunny Friday.