This post courtesy of our sister site, Queen Anne View.
The Washington State Department of Transportation (WSDOT) is beginning its construction season early this year, with the first of "nearly 20" weekend and weekend night closures starting next weekend, January 4-7. The I-5 closures will run through April.
Why January – April for these closures? According to Russ East, WSDOT Assistant Regional Administrator:
"There are so many construction projects in the Seattle area, we didn't want to add to the summer construction jam. We planned ahead, worked with other agencies and determined that construction in January through April was the best way to get our work done and cause fewer headaches for drivers."
Per WSDOT, the following projects will occur between January and April: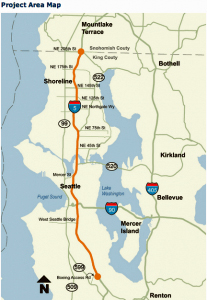 Replace 31 expansion joints on ramps linking I-5, the West Seattle Bridge and Columbian Way and one joint on northbound I-5 just south of the ramps
Grind and smooth out three lanes of southbound I-5 between 50th St and Roanoke St in the University District and add durable striping to both directions of I-5 between Northgate and Roanoke St
Replace bridge expansion joints and repave the ramp on northbound I-5 to Spokane St (West Seattle Bridge) and northbound and southbound I-5 off-ramps at Corson Ave.
WSDOT traffic engineers worked with multiple agencies and organizations including the city of Seattle, sports teams, and event planners to avoid any major overlaps between construction and planned events. However, while they have identified the lightest traffic times, there will still be construction impacts.