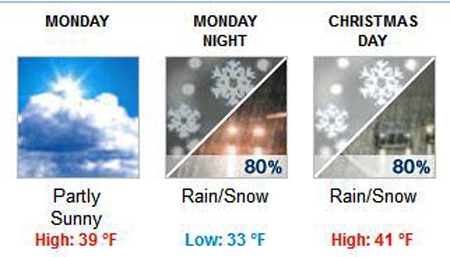 Sue might get her Christmas wish.
Unexpectedly, this morning's National Weather Service forecast calls for the possibility of something close to an inch of snow locally on Christmas Eve into Christmas Day on Tuesday.
The snow would melt by the afternoon, but still.
From the forecast discussion:
A STRONG FRONTAL SYSTEM WILL IMPACT THE REGION ON CHRISTMAS FOR MORE RAIN AND MOUNTAIN SNOW AS WELL AS GUSTY WINDS. THIS SYSTEM BEARS WATCHING AS IT HAS THE POTENTIAL TO PRODUCE SIGNIFICANT SNOWFALL ON PARTS OF THE HOOD CANAL AREA AND KITSAP PENINSULA. THE SNOW LEVELS WILL BE FAIRLY LOW…SO THERE IS A CHANCE THAT THE PRECIP COULD START OUT AS SNOW OR A RAIN/SNOW MIX ELSEWHERE ACROSS THE LOWLANDS.