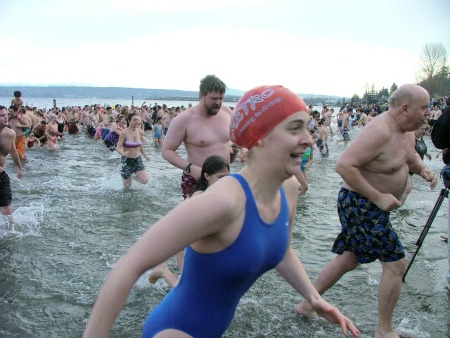 There's no need to fret about all of those extra pounds you might be consuming over the holidays — at least not if you're one of the brave souls who dares to participate in the 11th annual Polar Bear Plunge at nearby Matthews Beach!
Rain or shine, you're invited to join your fellow polar bears for a plunge into chilly Lake Washington at noon on New Year's Day. Registration begins at 11 a.m., and costumes are encouraged.
Refreshments will be provided, and swimmers who make it neck-deep will receive a 2013 Official Patch of Courage. The city's Parks Department offers these tips for enjoying a fun, safe swim:
Come early, and carpool or take the bus.
You can plan your trip at http://tripplanner.kingcounty.gov/
If you have heart problems or other serious medical concerns, we recommend you consult your health care professional before taking the Polar Bear Plunge. If you don't go in the water, come and watch!
Don't drink alcohol — it doesn't warm you up, and it accelerates hypothermia.
Don't stay in the water for longer than 15 minutes — you lose body heat 25 times faster in water than in air.
Don't take off your outer clothing until you're ready to get in the water, and remove wet clothing before getting into dry clothes.
Participants are encouraged to sign the online blog: theofficialunofficialpolarbearplunge.blogspot.com.
Matthews Beach is located at 49th Avenue Northeast and Northeast 93rd Street.