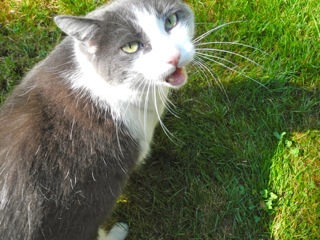 Shannon emails to say her mother-in-law's cat, Neko, has been missing from the neighborhood for the past fortnight.
He vanished from the vicinity of Eighth Avenue Northeast and Northeast 96st Street.
Cat is very friendly, named Neko; greyish/white with white front legs. He is microchipped and has a license  #L11-003689. We miss him tons!
If seen, email Shannon at hokuli4 (at) gmail.com