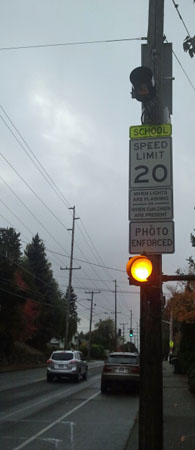 Speed cameras on Fifth Avenue Northeast alongside Olympic View Elementary School were installed earlier this week and are now operational.
We reported on them this summer. The city says speeding on Fifth by the school, 504 N.E. 95th St., is among the fifth worst in Seattle school zones.
The  units are like the automatic red light cameras, but focused on speeders. Those caught speeding will receive citations in the mail.
They are on Fifth at approximately Northeast 94th and 96th streets.