The turning leaves signals a new season for Northwest Puppet Center, 9123 15th Ave. N.E., which is launching its 2012-13 series with "Sigi the Antelope: Stories of West Africa."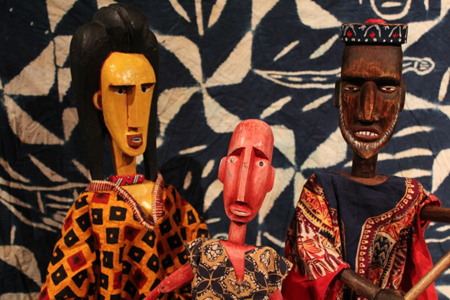 Carter Family Puppets is working together with Ocheami Drum & Dance Ensemble Music to bring you the dance, puppetry and storytelling that is woven together in many of the West African cultures. The production will include stories from Mali and Ghana that feature live drumming, stilt-walking, puppets and masks.
"Sigi the Antelope" plays from Oct. 13-28, with showtimes at 1 and 3 p.m. Saturdays and Sundays. Tickets cost $10.50/$8.50 child (up to 16)/$9 Senior (65+) and are available at the box office 30 minutes before curtain, by calling 1-800-838-3006 or at Brown Paper Tickets.
Season tickets for $42 also are available at Brown Paper Tickets for the 2012-13 season, which continues with:
RAPUNZEL
by Paul Mesner Puppets
Nov. 3-18, 2012
IMAGES OF CHINA
by Dragon Arts Studio
Jan. 19-27, 2013
PUSS IN BOOTS
by Oregon Shadow Theatre
Feb. 9-24, 2013
ALADDIN AND THE WONDERFUL LAMP
by Carter Family Puppets
March 2-17, 2013
CHICKENS AND PIGS AND BEARS… OH MY
by Parasol Puppets
April 13-28, 2013
THE SECRET LIFE OF BUGS
by Spyglass Theater
May 4-12, 2013