The Art Tile showroom on Roosevelt Way Northeast wrote this afternoon:
ATTENTION:
Between 12 noon and 12:20 p.m. today an Art Tile Co. employee's car was broken into while parked on the west side of Roosevelt just north of Art Tile between Northeast 85th & 86th streets. They broke out the right-hand window and stole a backpack. Yes this was in the middle of the day. BE ALERT FOR SUSPICIOUS ACTIVITY!
A little earlier Shelley wrote: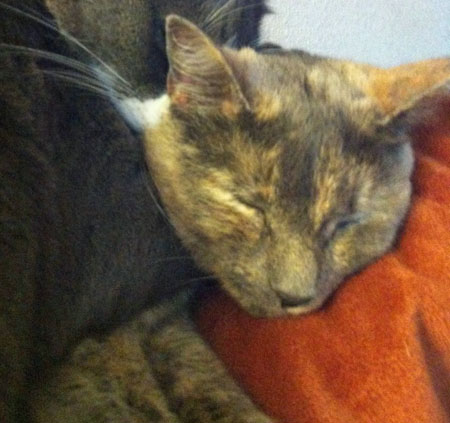 Hi Maple Leaf Blog. I was wondering if you could post this for me. We haven't seen our cat Molly for a week and are getting worried. She's the lighter cat on the bottom of this picture. Unfortunately she won't keep a collar on so doesn't have one right now. If anyone has seen her in the last few days, please let me know. Thanks!!!
Shelley lives at 12th Avenue Northeast and Northeast 89th Street. She can be reached at 206-351-4938.
Update 7 p.m.: Shelley writes:
I would like to thank the kind person who found Molly after she was hit by a car and rushed her to the vet to try and save her. He posted signs which I finally saw today and he called the vet to check up on her. If it wasn't for him I would never have known what happened to her.
Finally, Nic emails to ask if we know what authorities have decided to do about the driver of a hit-and-run car that struck a man on 15th Avenue Northeast on Aug. 5.
According to police, witnesses said they saw the 32-year-old man sitting in the road about 2 a.m. According to a press release, the driver was jailed for investigation of vehicular homicide and investigation of hit and run.
Nic said a memorial has been established at the scene, just south of the bridge over Thornton Creek.
Other than your coverage at the time and the follow-up comments I cannot find anything about what happened (at the time and after the driver was charged) in any other news source. This is a block from my house and seven blocks from my office and I walk my dogs by the shrine every day.
No charges have yet been filed, according to the King County Prosecutor's office, and a police spokesman said complex accidents investigated by the traffic department can often take several months to complete and forward to prosecutors. This investigation is still ongoing, he said.