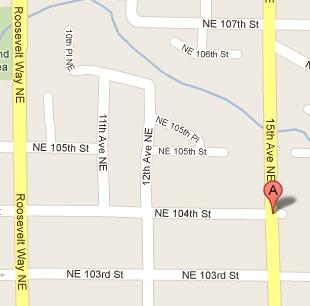 Police today report a man sitting in the street on 15th Avenue Northeast was struck and killed by a car about 2 a.m.
The accident occurred in the 10400 block, or just at the bridge over Thornton Creek 15th Avenue, in the southbound lane, police said.
From  a police press release:
According to the witness, the man was sitting in the road with his legs crossed, elbows resting on his knees and his head cradled in his hands. As the witness approached the victim in an attempt to remove him from the road, a 1997 Infiniti Q45 travelling south on 15th Avenue N.E. struck the man, killing the 32-year-old man. The driver of the car drove off without stopping.
Officers found the car a few blocks away, in the 2700 block of Northeast 98th Street. Police said the 23-year-old driver appeared to be impaired by alcohol.
Neither the driver nor his female passenger were injured, police said. The driver was jailed for investigation of vehicular homicide and investigation of hit and run, the press release said.