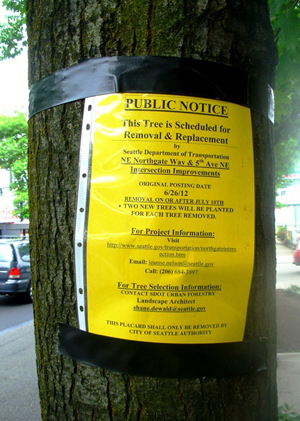 Ruth Williams, president of the Thornton Creek Alliance and Beaver Pond Natural Area forest steward, has sent a plea out to fellow urban environmentalists about the removal of 18 healthy street trees from Northeast Northgate Way and Fifth Avenue Northeast, starting as early as July 7.
She says the trees, which have become big enough to provide shelter for pedestrians, are being removed to make way for turning lanes for cars.
However, signs posted on each of the trees states that for each tree removed, the Seattle Department of Transportation will plant two. Williams writes:
We should make sure SDOT means what they say and will replace the trees with specimens of similar size.  Since they will no longer be on the sidewalk shading pedestrians, but out in the median shading vehicles, there will be fewer overhead wires and awnings to contend with.  Will SDOT be able to add a few natives to their tree list and plant some now?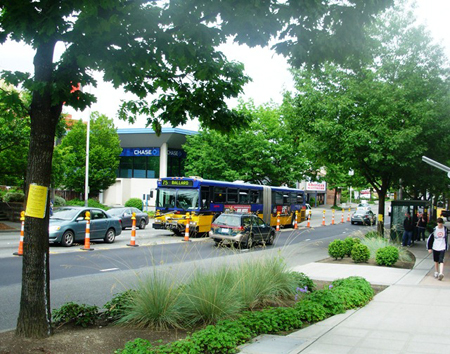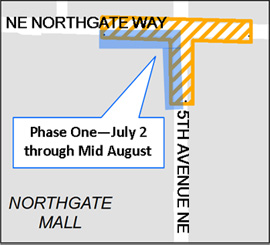 The removals, part of the Northgate Coordinated Transportation Investment Plan in a project called "NE Northgate Way & 5th Avenue NE Intersection and Pedestrian Improvements," are coming from the south side of Northgate Way and from Fifth Avenue Northeast where they intersect.
Williams continues:
Please be sure to contact SDOT and let them know what you think about this!  They need to know we are paying attention. …

Here is the contact information you need:

Tony Mazzella, SDOT Project Manager, tony.mazzella@seattle.gov, telephone 206.684.0811

Project Contacts:

Project Hotline:

Leave a message at any hour and get a response within one business day by calling the Project Hotline at:206-462-6348

Thank you for caring for Seattle's trees and the Northgate neighborhood!
Michael Oxman with Save Seattle's Trees also notes that an Urban Forestry Commission meeting next Wednesday, July 11, would be a good place to share your opinion about the city's policy on trees. The meeting is from 3-5 p.m., and starts with a public comment period.
Ruth Williams provided the photos in the blog post.