The Seattle Times is now identifying the shooter, who is said to have lived at Roosevelt Way Northeast and Northeast 47th Street, and quoting a family member saying he is mentally ill.
Update 5:15 p.m. Our news partners at The Seattle Times report:
Seattle police said they believe the same man was responsible for two deadly shootings in Seattle Wednesday.

The man fatally shot himself in the head on a West Seattle sidewalk as police closed in. Update 5:30 p.m. Shooter now reported in critical condition at Harborview Medical Center.

He is believed by police to have killed three people and wounded two others at Café Racer Espresso earlier Wednesday. A half-hour later, he shot a woman to death near Town Hall in the First Hill neighborhood.
Update 3:20 p.m. Police have released a surveillance video photo from inside Cafe Racer. They describe the suspect as a white male, approximately 30 years old, wearing a dark short cap, with well-groomed dark hair, a neat full beard, wearing a light blue jacket.  He is considered armed and dangerous.
If you recognize this man, please immediately contact the SPD tip line at 206-233-5000 or call 911
Update 3:15 p.m. SeattlePI.com Tweeting:  "SWAT Officers taking defensive positions now on Roosevelt south of NE 50th. Armored vehicle here."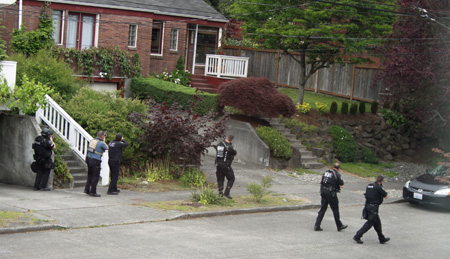 Police search for shooting suspect outside a Maple Leaf home in the vicinity of 15th Avenue Northeast and Northeast 85th Street. Photo courtesy of a neighbor who wishes to remain anonymous, but emailed: "The resident looked pretty scared when he answered the door. He left and was not a suspect."
Update 1:15 p.m.The report that a suspect might be in the Maple Leaf neighborhood, two miles north of the shooting scene, was a false alarm. But police and TV crews remain on scene on 12th Avenue Northeast, just south of Whole Foods.
One neighbor said police, doing house-to-house searches, even searched his shed. Suspect now described as 6-foot-1, thin white male, plaid shirt and dark pants.
Elementary students visiting Roosevelt High School from Granite Falls and Edmonds were filing back into school buses under police guard. Cowen Park is not closed.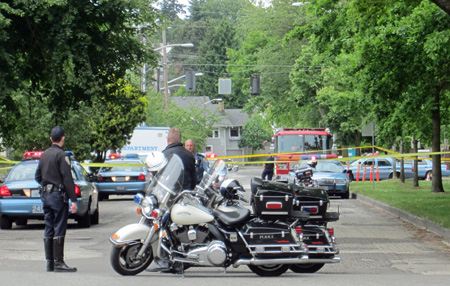 Update 12:51 p.m. KIRO is reporting: There are reports officers entered a house and cleared out neighbors two miles north of the shooting scene in the Maple Leaf area.
Follow this breaking news on Twitter here: #RooseveltShooting
Those helicopters you hear are hovering over Roosevelt Way Northeast at Northeast 58th and 55th streets. Three Two people are dead and two three injured, police report. Officers are searching for the gunman. For updates go to our news partners The Seattle Times.
The Times reports:
Roosevelt High School, Eckstein Middle School and Green Lake Elementary School have been locked down.
The Maple Leaf Community Council sent this to its email list:
Dear Neighbor —
There has been a shooting in the 5800 block of Roosevelt Way NE. This is nearly 20 blocks outside of Maple Leaf, but the suspect is at large and the Seattle Police Department is currently pursuing him northbound.
Suspect is a white man, 6'1, very thin, curly light brn hair, wearing a white & brown plaid shirt, a long sleeve shirt, and dark pants. Age is 30s.

If you see this man, call 911 immediately and stay hidden. DO NOT confront him.
From Seattle Police:
Around 11 a.m., several people called 911 and reported hearing gunfire coming from Cafe Racer at Northeast  58th Street and Roosevelt Way Northeast.

Officers arrived on scene and found five people down inside the business.

The suspect in the shooting is a white male, 6'1, very thin, with curly light brown hair, wearing a white and brown plaid shirt and dark pants. Police believe he is armed and dangerous.

There is currently a heavy police presence in the University District, with K9, SWAT, Homicide detectives, crime scene investigators, and patrol officers all in the area working on the case and searching for the suspect.

As a precaution, area residents should keep their doors and windows locked, and to call police if you find any indications someone has tried to break in to your home.

If you have information about this case or the suspect, please call 911.