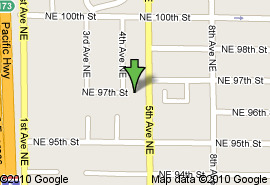 Crisp Creperie had to jet outta the neighborhood early yesterday after selling out by 1 p.m., but in its place today is Lumpia World at the Washington Dental Service/Delta Dental, 9706 Fourth Ave. N.E., from 11 a.m. to 2 p.m.
In a message to neighborhood food truck fans, Crisp Creperie said because it sold out so quickly, it plans to extend its discount during its new regular Thursday visit next week, March 29, also from 11 a.m. to 2 p.m. (or until they sell out!). It explained:
We here at Crisp Creperie food truck would like to extend a HUGE thank you to all the people who came out to visit us yesterday!  We were thrilled by the turnout which greatly exceeded our expectations, as evidenced by how quickly we sold out of our stock. Our apologies to the many people we had to turn away, and we would like to announce that we will be extending the "Delta" discount promotion through next week's Thursday visit as a gesture of apology and our thanks.  Please be sure to mention the promotion, and we will be happy to offer $2 off any savory crepe or $1 off any sweet crepe you order.  Also, please note that our credit card system replacement is here, and we will have the ability to accept cards during next week's visit.  Thank you all for your patience while our system was down!
If you're hungry now, though, here's what Lumpia World has in store today:
Lumpia Selections: Ginger Pork, Lemon Grass Chicken, Ground Steak, Vegetarian, Sweet Potato, & Banana.
Soba Soup Selections: Tofu, Baked Chicken Breast, Spam, or (K)rab Topped w/: Fresh Cilantro, Chopped Green Onions, Sesame Oil, & Garlic/Chili Sauce
Specials:
Garlic Rice
Veggie Pancit w/(2) Lumpia Combo
Chicken Katsu Sliders w/Crinkle Fries (Filet Chicken Breast, topped with a Mild Tomato Based Aioli, & Fresh Asian Slaw on a Sweet Hawaiian Bun)