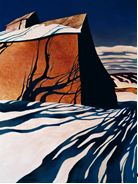 Aljoya Thornton Place is opening a new art show on Thursday, Feb. 23, featuring Seattle artists Z.Z. Wei and Alfredo Arreguin, including Wei's "Palouse Shadow," shown, and Arreguin's "Colibris."
June Sekiguchi, art curator at the senior living community at 450 N.E. 100th St., says in a news release that last spring's gray skies and chilly temperatures inspired planning for this show:
"The art of Z.Z. Wei and Alfredo Arreguin is bright, with visual narratives that draw the viewer into stunning beauty," says Sekiguchi. "The rich color in this exhibition is something we all long to see this time of year."
Wei, originally from China, and Arreguin, from Mexico, tell the stories of being first-generation Americans through their 15 vibrant paintings that will be on display through June 26.
Both artists, who teach art and exhibit locally as well as internationally, will be at a free opening reception from 4:30-6:30 p.m. Thursday at Aljoya Thornton Place. Advance reservations are required by calling 206-306-7920.