Seattle Police report repeated gunshots were heard early this morning in just off 15th Avenue Northeast in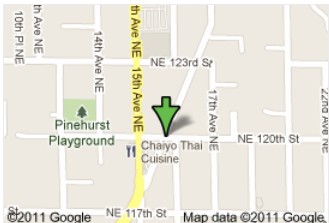 Pinehurst.
At approximately 1:36 a.m., 911 callers reported hearing multiple gunshots and seeing people running. According to witnesses, the suspect(s) fired from a Volkswagen Passat or similar type vehicle in the 12000 block of Pinehurst Way Northeast.

North Precinct officers responded and located two of the people seen running. They were interviewed by officers, but it was undetermined if they were the intended targets of the shots fired. Officers searched for the suspect vehicle, but it was not located. It does not appear that any victims were struck, nor was there any property damage located. Officers did recover a shell casing in the 11700 block of Pinehurst.