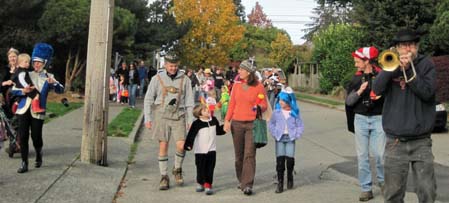 Last October Maple Leaf enjoyed its Second Annual Parade of Costumes on Halloween. It was great.
"It was a great turnout. I'd say we had 200 people come," says Mandi, one of the organizers. "And we collected TONS of food for the food banks."
The parade organizers asked for:
Big Kids, Little Kids, Furry Ones too – show off your costume while parading the ML neighborhood with instruments, noisemakers, and freaky sounds. Bring a non-perishable food item (for local food bank) in exchange for a yummy cupcake!
But this year Mandi has two kids in new schools, one starting kindergarten, a new job, and "I just flat out ran out of time. I won't be offended in the least if someone wants to organize one! :)"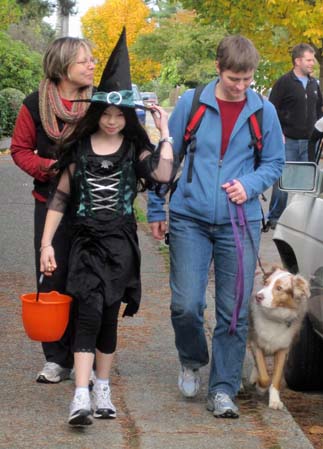 So there you have it.
Last year the parade started on Halloween afternoon around the traffic circle at 12th Avenue Northeast and Northeast 91st Street, and made a loop through the neighborhood including Cloud City Coffee and the Blue Saucer.
Mandi also points out that last year the parade benefited from good weather, and from Halloween falling on a Sunday. This year it falls on Monday.
So there's no third annual parade planned for this year. Unless neighbors pull one together. Perhaps on Sunday?