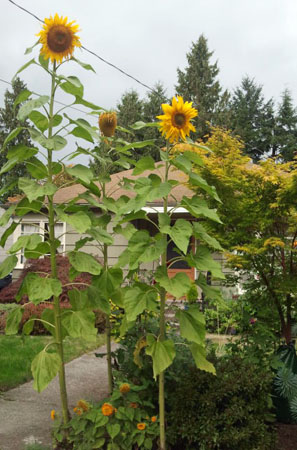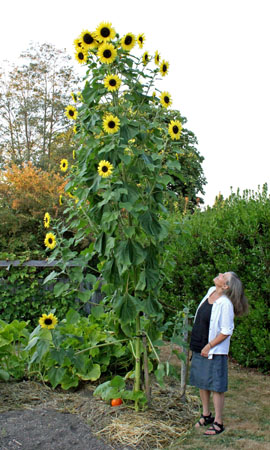 Update Oct. 2: So, where's the rain?
Cliff explains, sorta, in "Sometimes a forecast goes wrong."
————————————————
We came across these additional Giant Sunflowers this morning just as that quick rain shower swept through the area. They are just off Roosevelt Way Northeast.
Rain is predicted to start tonight and continue the next day, and the next, and the next, and that brings us to Tuesday.
For Tuesday the National Weather Service just issued a Special Weather Statement:
A STRONG WEATHER SYSTEM IS PREDICTED TO ARRIVE ABOUT TUESDAY BY
NUMERICAL MODELS. IN ADDITION TO BRINGING HEAVY RAIN TO THE COAST AND OLYMPIC MOUNTAINS…THIS SYSTEM HAS THE POTENTIAL TO BRING WINDY OR BREEZY CONDITIONS TO THE AREA….
WITH MOST TREES STILL HOLDING ONTO THEIR LEAVES…ANY WIND
EVENT COULD EASILY KNOCK TREES DOWN AND CAUSE LOCAL POWER OUTAGES.
Meanwhile, we have re-posted another Giant Sunflower Photo that was eaten by a server crash early in the month.