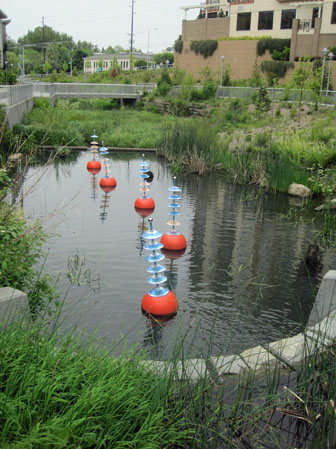 This week The Atlantic magazine posted a piece titled: "How to Turn a Parking Lot Into an Ideal Green Community."
The author, Kaid Benfield, is full of praise for "possibly the best example of transit-oriented urbanism, natural public space, and green stormwater infrastructure I have ever seen," and what he's praising focuses on the daylighting of Thornton Creek at Thornton Place.
He's not only talking about the swale, seen above (it's officially called the Thornton Creek Water Quality Channel) but the entire project.
Much of the credit for this accomplishment belongs to a new development called Thornton Place, comprising 109 condos, 278 apartments (20 percent priced below market), a 14-screen cinema, 50,000 square feel of retail, and a very appealing plaza that gives the block a great urban public space in counterpoint to the natural one.
And Benfield, who is director of the Sustainable Communities and Smart Growth program at the Natural Resources Defense Council, also calls out and praises Era Living's Aljoya at Thornton Place, the Northgate Branch Library and the community center.
I have a feeling that this project is going to start showing up in a lot of case studies and presentations, including my own, and deservedly so.