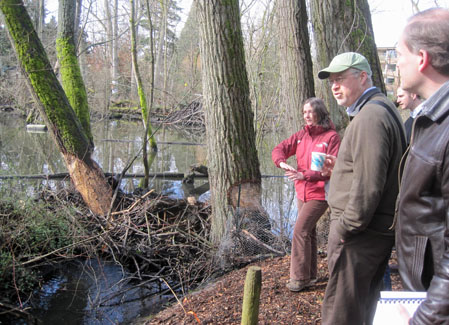 Mayor Mike McGinn at the beaver pond in Thornton Creek Park No. 6.
Seattle Mayor Mike McGinn joined around a dozen neighborhood residents – and a dozen or so government staffers – this weekend for a tour of parks, gardens and Thornton Creek.
"I just got to see some of the assets of this neighborhood," McGinn told a group of about 50 afterward at  a town hall Q-and-A at Aljoya Thornton Place, 450 N.E. 100th St.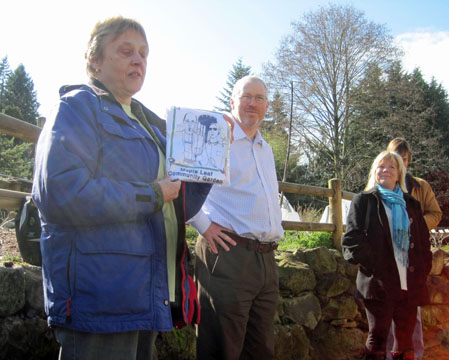 Barbara Maxwell, a Maple Leaf Community Council veteran, presents Mike McGinn with a Maple Leaf Community Garden T-shirt as Jenn Zanella looks on.
The tour started at the Northgate Community Center, wound through Thornton Creek Park No. 6 to the Maple Leaf Community Garden, skipped a planned visit to the Northgate Transit Center (for lack of time) and landed at Aljoya after a stop at the Thornton Place commons area.
During the Q-and-A, McGinn stressed that many of the city's present budget woes are the result of years of deferred maintainance of streets, parks, water systems – all vital infrastructure.
"It's been a difficult budget-balancing exercise," he said. "The streets are in really bad condition right now."
Many of those attending were interested in pedestrian safety and the lack of sidewalks in much of Maple Leaf and Northgate. There were complaints about lack of walkability along Northeast Northgate Way and Roosevelt Avenue Northeast, and at the intersection of Northgate and Eighth Avenue Northeast.
"We're seeing a desire by many people to live in a more walkable area," McGinn acknowledged. "We should be prioritizing pedestrian projects. "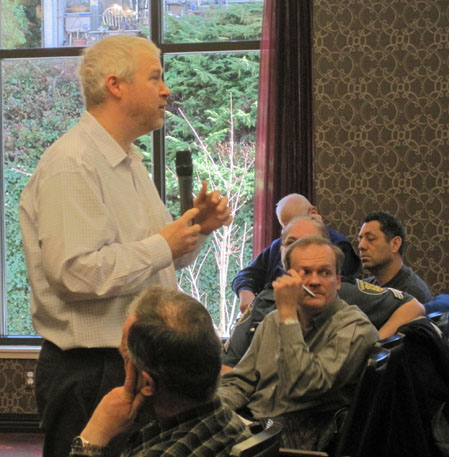 The mayor often asked city staffers to follow up on individual questions, including complaints about prostitution on Aurora Avenue North and the proposed "road diet" for Northeast 125th Street. "N.E. 125th has a very steep hill," McGinn was warned. (Actually, it's not as steep as one of Maple Leaf's prime bike commuting routes.)
Asked about proposals to preserve Seattle's tree canopy, McGinn noted the sensitivity of the issue. A former Sierra Club leader, McGinn wants to save trees. "But how restrictive will we be for people who want to cut down trees on their own property?" he asked.
"This is going to be a hot-button issue."
(Earlier we posted about McGinn's comment on the Alaskan Way Viaduct tunnel.)