Many of the students at Northgate Middle College High School have tried to fit in at other high schools, some of them multiple times, and it just didn't work out. Until they found the alternative public school nestled in Northgate Mall, which introduced those students to the community Thursday night at its Spring Fling Silent Auction.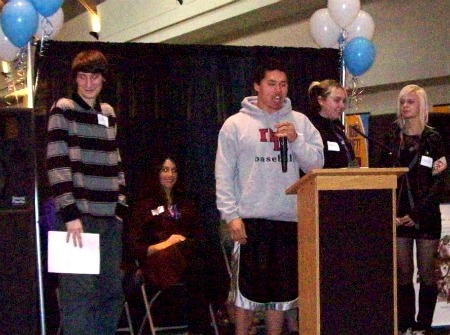 Photo courtesy Rachel Nelson with Northgate Mall.
Some of the students, who range in age from 16 to 20, shared stories of their struggles both at school and at home, and how they've now found a second home at Northgate Middle College High School. Joe Lee, who comes from a broken family and has dropped out of high school twice, was among those students:
"My name is Joseph Lee, a student here at Middle College, and without this program I would not be graduating. Not only will I be graduating, but I have plans of attending The Evergreen State College to study the environment … . The opportunity I've had here at Middle College is very special to me as I am finally earning my diploma and on my way to beginning a new opportunity where the rewards will last a lifetime."
Those words touched the 50-plus people in attendance at the event, who donated $8,000 at the silent auction that featured gift cards, jewelry, theater tickets and more that were donated from mall stores and others.
"When the students got up and spoke, that was really compelling," said Sandy, a friend of a student and a self-proclaimed "fan" of the school. "I think it's really important that people that didn't fit in at other schools were able to build their skills here."
One of the goals of the auction was to raise enough money for the school to keep its part-time life coach, but any extra money also will help with day-to-day needs such as school supplies, food and field trips.
Although the middle college is part of the Seattle School District, citywide cutbacks have been particularly hard on the 45-student school, which has seen its teaching staff reduced from five teachers when it opened 10 years ago to two now. Earlier this school year, the students had to fight to keep their school lunch program, which humanities instructor Beth Brunton said is the only real meal some of the students eat each day.
The district doesn't even pay for the space on the second floor of Northgate Mall, which is rented for free to the school through the Simon Youth Foundation. The foundation has similar partnerships with schools across the nation, and also offers scholarships to those students.
If you missed your chance to give a little at the event, you still can help. Just get in touch with Brunton at bethbrunton@seattleschools.org or 206-366-7940.