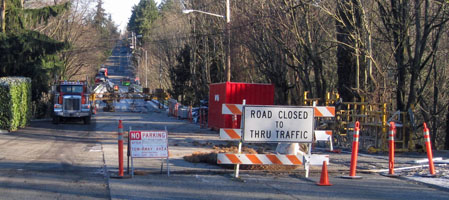 Shortly after 1 a.m today a car smashed through the barrier blocking access to the closed 15th Avenue Northeast bridge, Seattle Police report.
The vehicle proceeded through the barrier and traveled approximately 200 feet before striking a parked construction truck and bridging equipment. The driver, a man in his 20′s was pinned in the vehicle and unconscious as officers and fire personnel arrived.
Firefighters cut the roof off the car and medics took the driver to Harborview Medical Center. "The driver had an odor of alcohol on his person so a DUI officer responded to Harborview Medical Center to process him," according to police.