Maple Leaf resident Phil Borgnes sent us these photos from All the Best Pet Care, 8050 Lake City Way N.E., which he said is closed for the time being after being burglarized sometime between 4 and 7 a.m. today.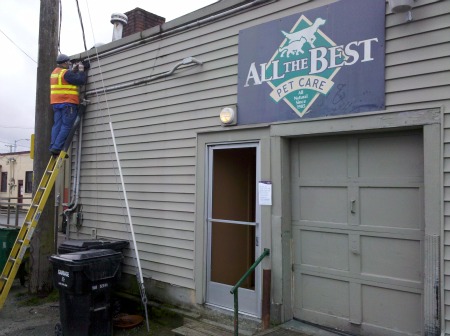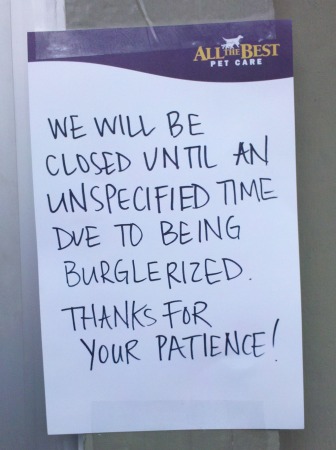 He said Qwest workers are seen above repairing phone and Internet at the Maple Leaf company.
We'll try to get more information to you as we learn more. The police report gives the incident time as 7:08 a.m.
Since our last crime roundup the Maple Leaf Pharmacy was robbed again – and the robber was caught blocks away minutes later.
Another robbery occurred on Friday afternoon, Feb. 18, at a service station at 10800 Roosevelt Way Northeast. According to the full report, which just became available, a suspect who appeared drunk entered the store, took a piece of pizza and a hamburger out of the warmer and ate them, then tried to walk out with an 18-pack of  beer and a bottle of wine. When the store worker went after him, the suspect punched the worker in the face at Eighth Avenue Northeast and Northeast Northgate Way.
A third robbery occurred Sunday afternoon, Feb. 13, at a store in the 400 block of Northeast Northgate Way. Police say a store security worker was punched in the face when he stopped a shoplifter. The security guard won, police made an arrest, and two watches worth more than $250 each were recovered, according to the police report.
In new  burglaries and car crimes:
Burglaries
Tuesday afternoon, Feb. 22, in the 500 block of Northeast 78th Street.
Sunday afternoon, Feb. 20, in the 10600 block of Eighth Avenue  Northeast.
Tuesday, Feb. 15, in the 10200 block of 23rd Avenue Northeast. This one appears to have been a failure. Police say the front door was damaged by attempts to kick it in, but no entry was made.
Tuesday, Feb. 15, in the 1500 block of Northeast 90th Street. Entry made through a daylight basement window.
Late Wednesday morning, Feb.  9, in the 1700 bock of Northeast 97th Street. Police said the front door and frame were kicked in.
Wednesday, Feb. 9, in the 10200 block of 15th Avenue  Northeast. Police say entry was through a ground-floor window.
Cars
A car was stolen early Monday morning, Feb. 21, from the 8600 block of 86th Avenue Northeast. Another car was broken into that evening in the 8800 block of Roosevelt Way Northeast.
A car was stolen early Wednesday morning, Feb. 16, from the 300 block of Northeast Northgate Way.