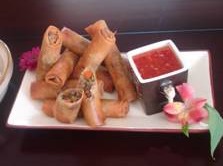 Did you miss your chance today to check out new street food vendor Lumpia World?
They'll be back Friday from 11 a.m. to 2p.m., filling the void after Hot Cakes Confections announced earlier this week that it was canceling its weekly appearance at the Washington Dental Building, just south of Thornton Place at 9706 Fourth Ave.
Starting next week, Lumpia World plans to return to the business district Thursdays for lunch.