We're mixing up the menu this week for lunchtime mobile food vendors at the Washington Dental Building, 9706 Fourth Ave.
From 11 a.m. to 2 p.m. Tuesday, Got Soup? returns with Shrimp Etouffee; Jerk Chicken with Black-Eyed Peas and Greens; vegetarian Turnip and Gruyere; and vegan Garden Pea with Mint and Tarragon among this week's soups.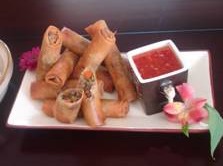 Also from 11 a.m. to 2 p.m. are Fusion on the Run on Wednesday, followed on Thursday by the new street food vendor Lumpia World, which takes its name seriously, offering lumpia – oriental pastries similar to spring rolls – filled with ground steak, ginger pork, lemon grass chicken, "Turon" plantain banana and more, in addition to soba noodle soups with tofu, baked seasoned chicken breast, Spam or crab.
UPDATE 1/26: Hot Cakes has canceled, but might return in the spring. And you can end the week with gourmet dessert from Hot Cakes Confections, which will be in the neighborhood from noon to 2 p.m. Friday.