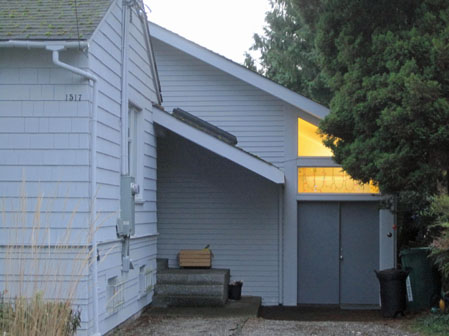 It's one of Maple Leaf's best secrets.
In the center of the neighborhood, essentially invisible behind an innocuous house on Northeast 89th Street, Maya Radoczy a decade ago built a 1,200-square-foot hot shop to pursue her passion.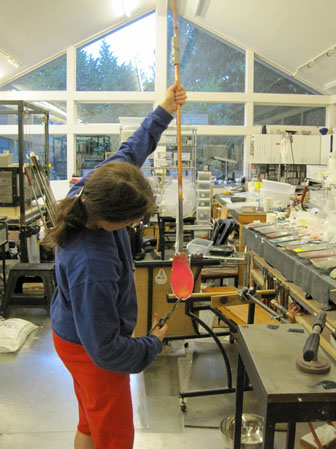 It has four electric kilns, an electric annealing furnace that hits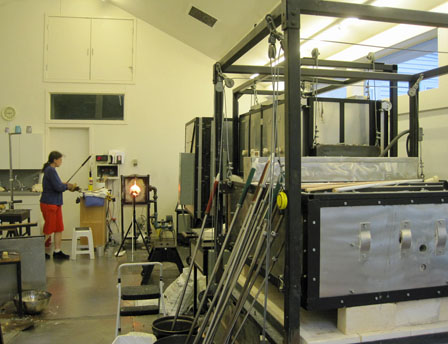 2,000 degrees and a gas-fired glory hole – "I don't call it that in mixed company" – to work molten glass.
Every weekend in December, including Christmas Eve, she's throwing the shop open to the public from 10 a.m. to 4 p.m. and selling blown or sculpted glass art at wholesale prices – between $5 and $30 each.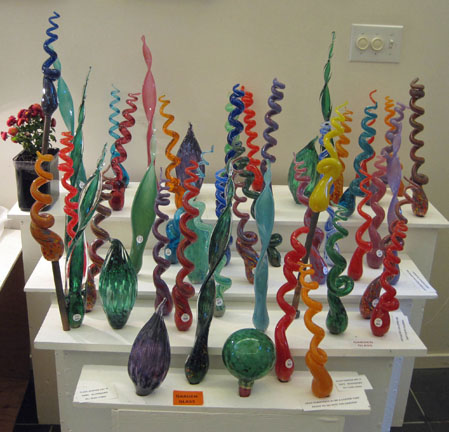 The studio is at 1517
N.E. 89th St. – you might have seen her signs along Roosevelt Way Northeast or 15th Avenue Northeast.
Plus, this weekend she's showing at the Phinney Neighborhood Association's Winter Festival, which runs from 10 a.m. to 5 p.m. Saturday and Sunday, Dec. 4th and 5th, at the Phinney Center, 6532 Phinney Ave. N.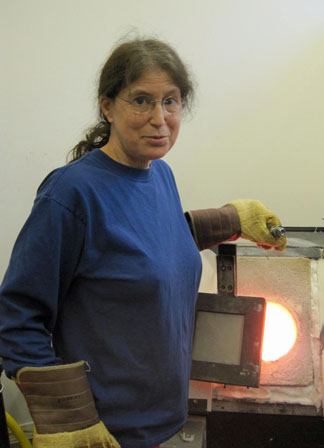 Clothes worn in the hot shop come from thrift stores, and must be 100 percent cotton, Radoczy says. "Otherwise, think of napalm."
Radoczy moved to Maple Leaf in 1989, and built the hot shop three years later. She grew up with art (her father taught fine art and design at CCNY (City College of New York) and apprenticed at a glass company in West Germany before studying at the Pilchuck School of Glass, the Cornish Art Institute and the Pratt Fine Arts Center. More of her bio can be found here. Sh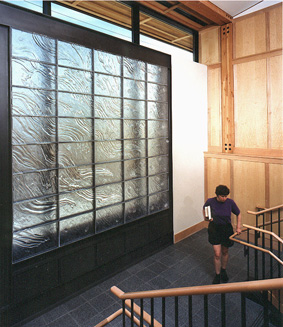 e's been featured on the Modern Masters television series.
"I spent 25 years working on large, architectural commercial work," she says.
You've almost certainly walked through one of them – the doors outside Seattle's flagship REI store. That project – "12 Words for Ice" – can be seen here.
Here's another, just above, from the public library in Bend, Ore. She has installations at numerous locations, including  Trump Plaza and, in Seattle, at U.S. Bank and University Hospital.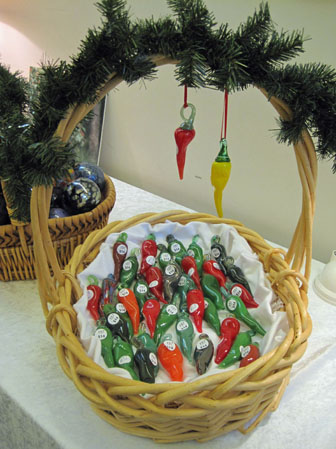 On a smaller scale, her handmade art available this season includes garden art, Christmas ornaments, glass pears, bird baths and bird feeders.
Stop by her studio and celebrate the holidays. Go home with unique gifts!