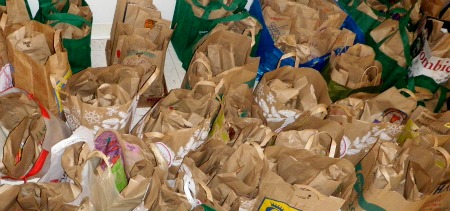 Photos from Renee Staton and George Allen.
In an effort to help welcome two new homeless camps to the Northeast Seattle community, students at  St. Catherine of Siena Parish School, 8524 Eighth Ave. N.E., decorated more than 300 bags that community members helped fill with food on Wednesday night.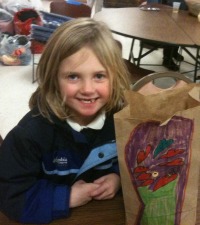 Volunteers today are passing out the food bags, along with more than 400 blankets that students have gathered, and wishing a Happy Thanksgiving to members of Nickelsville, which recently moved to a former Lake City fire station at 2806 N.E. 127th St. They also plan to visit Tent City 3, which now is located at St. Mark's Episcopal Church on Capitol Hill, but will be relocating Saturday to Maple Leaf Lutheran Church, located at 10005 32nd Ave. N.E. in nearby Meadowbrook.
You can read more about the effort on KPLU, and a big thank you to Renee Staton and George Allen for all of their organization efforts.