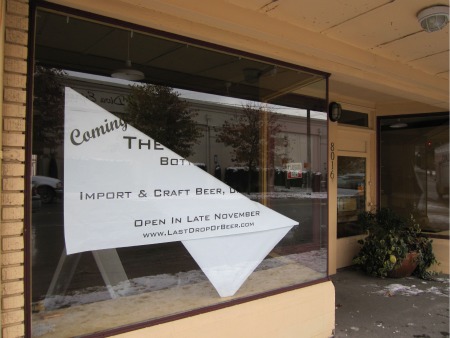 When Jack Cellars closed its doors last month, it was the end of an 11-year run of wine stores located at 8016 15th Ave. N.E. But it appears that a new store moving into the Maple Leaf storefront isn't venturing too far from that theme.
According to a partially fallen sign in the window of the former wine store, the new store will be called Last Drop Bottle Shop, and it will feature "import and craft beer, drafts." It's set to open at the end of this month, however, I'm guessing from the bareness of the inside that the opening might have to be pushed back because of the weather.
Currently its advertised website, www.lastdropofbeer.com, isn't working, but we're hoping to get more information straight from the source soon. The Beer Advocate reports that the owner of the Last Drop is also the owner of Hudson New American Public House, which is located right next door at 8014 15th Ave. N.E.