As pretty as they are, the brightly colored flags fluttering all around the section of Thornton Creek that runs through Thornton Place are not yet another art installation.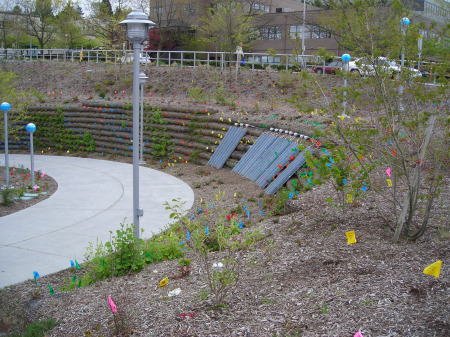 But they are just the beginning of further beautification of that water quality channel, which actually is maintained by Seattle Public Utilities.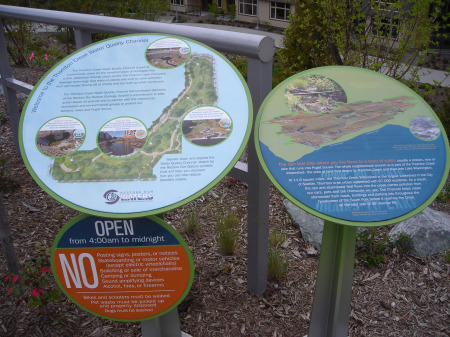 Cynthia Blazina, SPU's construction engineer for the Thornton Creek project, explained that the flags mark where vegetation was planted a year ago, as well as which plants have thrived and which ones haven't fared so well and need to be replaced.
Within the next couple of weeks, she estimates the flags will be gone, leaving only healthy plants in their absence.
But there is plenty more change brewing at Thornton Place.
Although an article last month from our partner The Seattle Times notes that the mixed-use development has yet to sell any condos, Tim Ainge, vice president of real estate operations for Thornton Place, still has big plans for the community.
So far, only about a quarter of the rental space has been leased, including a number of restaurants, Regal Cinemas' Thornton Place Stadium 14, and a vitamin store that is coming soon. Which means that sometime down the line, Maple Leaf residents will have a lot more stores within walking distance.
"We're really looking for a small grocery, some more restaurants, a dry cleaner, a small pet store, I can go on and on," Ainge said, adding that they're also hoping to get a brewpub to move into one of the spaces. "We're trying to maintain a sense of community."
Another idea they're hoping will pan out is the addition of a farmers market at Thornton Place, which would be a bonus for the residents who don't have a grocery store within walking distance – not to mention the neighborhood as a whole.
But there's still plenty of that sense of community while the company works to fill the vacant spaces, including the addition of the fire pit outside the Jewel Box Café, which typically is on from about noon to 9 p.m. daily, as well as the seating throughout the remainder of the courtyard during the warmer months.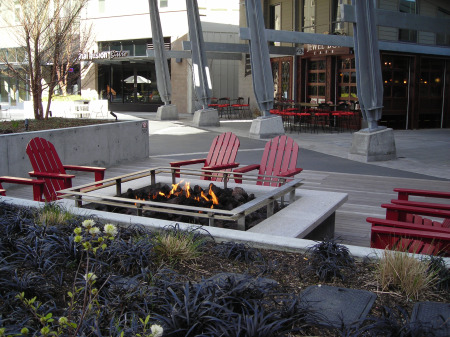 On the horizon, the development is planning an anniversary party June 5, and also is hoping to coordinate a fall festival in September with Northgate.
What other community events would you like to see at Thornton Place? What kinds of stores do you hope will be added as the development fills its vacant stores?