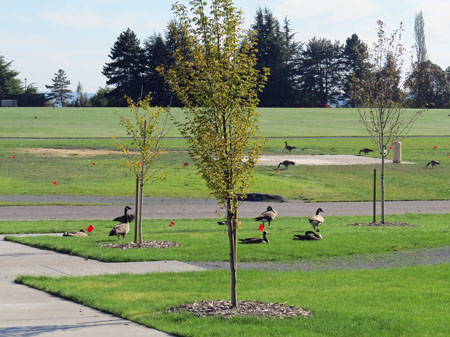 View from the north entrance to Maple Leaf Reservoir Park. The entrance will be at Northeast 88th Street and 12th Avenue Northeast.
Some – but probably not all – of the new Maple Leaf Reservoir Park will open this fall as expected, according to Seattle Parks and Recreation.
The difficulty appears to be that some of the grass has not taken root firmly enough. That will likely preclude opening the re-seeded sports fields.
Here's the current plan, in an email today from Kim Baldwin, a parks contact on this project.
We'll open a portion of the park for use this fall but leave other areas fenced in where the turf isn't well established. We'll definitely keep the fields fenced until spring since they were seeded last and will probably get the heaviest use. One thought is to have an opening event this fall with some areas still fenced off and the other is to wait until all the fencing is down and have an event in the spring.