After looking through the fence at the playground that has been under construction all winter, the Maple Leaf Family Terrace welcomed possibly hundreds of neighborhood children and their families at a grand opening celebration this morning.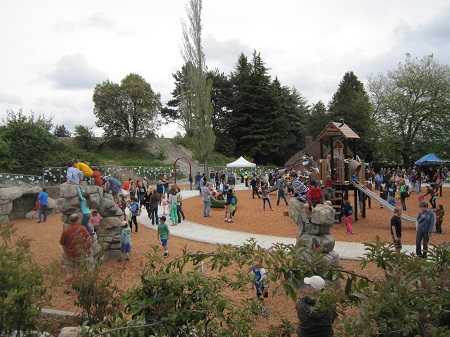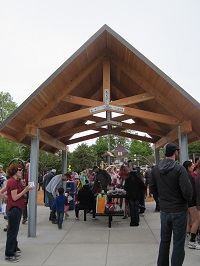 The presentation included plenty of thank-yous for the countless hours put in by volunteers Donna Hartmann-Miller and Scott and Jessica Bishop.
Hartmann-Miller, who heads the volunteer Friends for a Greater Maple Leaf Park, also thanked the many volunteers who helped build parts of the playground at a work party in early April that ended in a torrential downpour, in addition to the many local businesses that donated food that day, including Cloud City Coffee, Blue Saucer, Maple Leaf Grill and COA Mexican Eatery & Tequileria.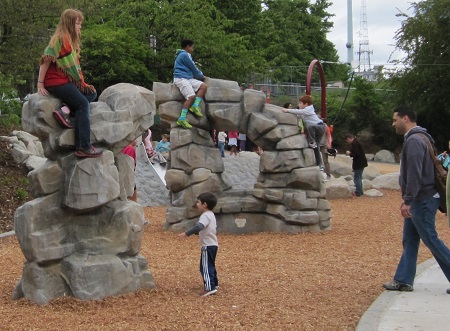 "I wish I was a kid again because I would be playing in this park endlessly," added Hartmann-Miller, who also is a member of the Maple Leaf Community Council Executive Board.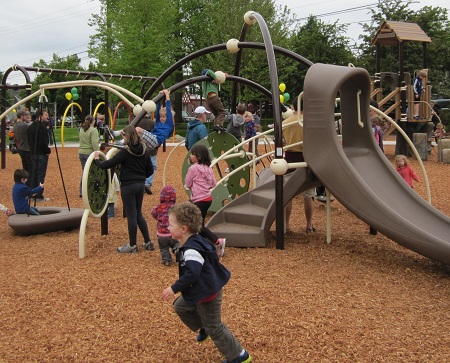 Of course, the zipline was a huge hit.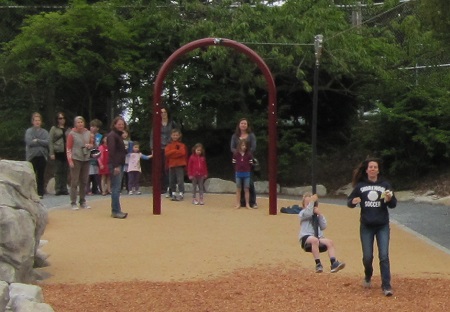 The playground at 1020 N.E. 82nd St. is now open to the public, although there still are areas that are fenced off as new grass continues to grow in. There will be more fun for all ages when the remainder of Maple Leaf Reservoir Park opens in late summer or early fall, adding 16 acres of green space to the neighborhood that previously were closed off to the public.