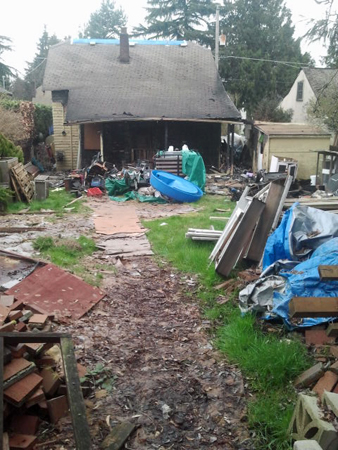 Update 3/13: The family wish list has been updated and converted into a Google Doc, (click through once): Wish List. Also, as of this morning the chickens were still there. -Mike
————————-
A little over a week ago both Lisa and MsDedy messaged us just after 11 p.m.: "Anyone know what all the sirens are about?"
We do now. The sirens were the sounds of fire trucks racing to an occupied home in the1200 block of Northeast 100th Street. The first engines arrived within minutes late on March 1 and called for more help. Within a half-hour, 19 trucks or other fire units had responded, including a public information officer.
Photo courtesy Seattle Fire Department/John Odegard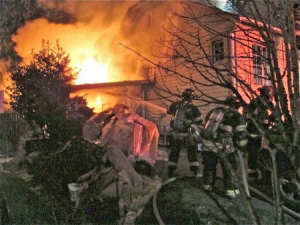 "At 10:54 p.m. a call came into the Fire Alarm Center reporting a fire at a house located in the 1200 block of NE 100th Street. A mother and two children safely evacuated the home by the time firefighters arrived," the fire department reports on its Fire Line Web site.
The family says their lives may have been saved by their dog, Hank, who alerted them before the smoke alarm went off. "He is our hero," emails Lucinda King, the mom.
The first arriving engine company found flames shooting from the back and side of the one-story home with basement. Firefighters cut holes in the roof to vent off the smoke and hot gases inside the house. It took about an hour to fully extinguish the flames. One firefighter received minor burns while fighting the fire. Medics transported the firefighter to Harborview Medical Center where the firefighter received treatment and was released.
After extinguishing the fire, crews found a deceased dog inside the residence.
The fire investigator called it an accidental fire caused by an overheated electrical outlet. The damage estimate is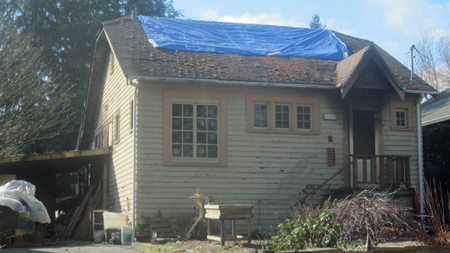 $150,000.
The family – Lucinda and her two girls – made it out  of the house wearing only their pajamas. Their cat Banzo (Garbanzo) also survived. "Everyone on 100th knows him, as he considers himself the official ambassador," Lucinda emails.
The Kings were initially assisted by the Red Cross, and are now staying at the Silver Cloud Inn just north of University Village, at 5036 25th Ave. N.E.
Now they need the neighborhood's help, with everything from a place to stay to a temporary home for their chickens: Sunny, Violet and Klaus.
Here is their Wish List. (Click through once.) Donations can be delivered to the Silver Cloud front desk, or if bulky to a location in Wallingford. The contact there is Karla: pastor@wallingfordumc.org
Cash donations can be made at any Wells Fargo bank to the account named Lucinda "Cindy Malone" King & Family Benefit Fund. Donations are also being collected at Sacajawea Elementary School.