Once again, the Maple Leaf stop on this year's Chicken Coop & Urban Farm Tour was at the home of Seattle Seedling author Stacy Brewer. But in addition to her chicken coop, her mosaic also was a big hit among visitors.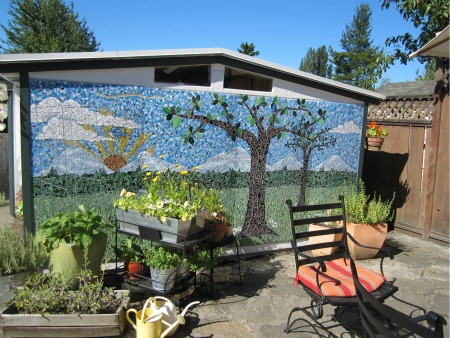 So much so that Grace Seidel, organizer of the Maple Leaf Summer Ice Cream Social, convinced Brewer to teach a mosaic class starting at about 7 p.m. Friday, Aug. 10, to the first eight people who reserve their spot with her at piecedtogether@gmail.com. She tells us:
We'll have a two-hour session to make flower stones – the little tile mosaic flowers I put on large river rock. That will give everyone an opportunity to work with ceramic and thinset adhesive and I'll be able to demo a few other things that should give you the tools you need to do any project. It's $50 per person and I told Grace, I could host 8 people max (assuming everyone understands that we'll be cozy and will be working in my dining room/kitchen).
You can see samples of her mosaics for sale on her Etsy page. And while you're there, maybe you can pick up a few of her eggs, too! As Brewer wrote on her Seattle Seedling blog, she's selling the egss her famous chickens lay for $2/half-dozen.