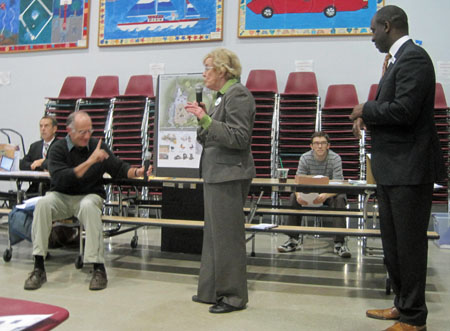 Seattle City Council incumbent Jean Godden and challenger Bobby Forch answer questions from residents Wednesday night at the election forum.
All 10 candidates on the Nov. 8 election ballot for Seattle City Council were on hand tonight for the Maple Leaf Community Council's Candidates and Issues Night.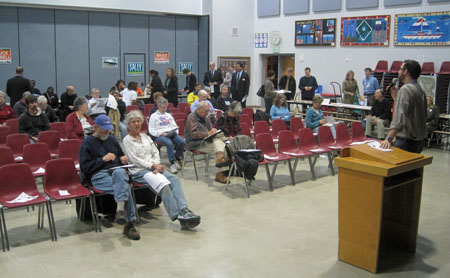 So were about three dozen neighborhood residents. So the ratio between candidates (adding in staff) and audience was a hearty 1-3.
Most of the candidates' positions can be found at the website of the Maple Leaf Community Council (which sponsored the forum) here.
Much of the discussion revolved around jobs, transportation, trust in police, the environment and sidewalks. Plus some issues the Seattle City Council has little control over, such as schools or bus service.
Later in the evening presentations on the Families and Education Levy, the Liquor Sales and Distribution Initiative and the road tolling (Initiative 1125) issues were set.
A highlight of the early evening came from Brad Meacham, who is challenging incumbent Councilman Bruce Harrell. Meacham was intensely critical of Seattle City Light, and in a Q&A said: "I've been told that the best way to get something done at Seattle City Light is to make a campaign contribution to Bruce Harrell."
To which Harrell responded: "Thank you."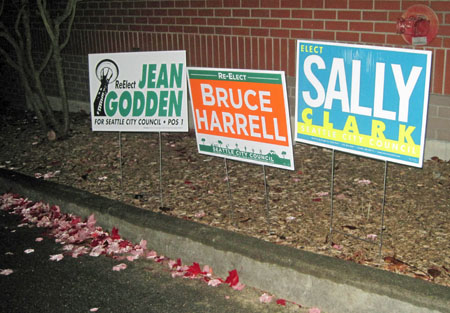 Signs for incumbent City Council members outside Olympic View Elementary School Wednesday night.