Although there still are a few months until Maple Leaf residents can start signing up to join the solar power co-op that will make a group bid for cheaper solar panel installation in the new year (see earlier post here), you've got a perfect opportunity to learn more about the process this weekend.
From 11 a.m. to 3 p.m. tomorrow, Oct. 1, you're invited to join the Tour of Solar Homes, which includes a stop at the Maple Leaf home of Jessica Raker. In addition to having 14 3.4-kilowatt solar panels on the roof of her home at 10530 11th Ave. N.E., Raker also happens to be an employee of Northwest SEED, the organization that has teamed up with Solarize Seattle to help organize residents for this initiative.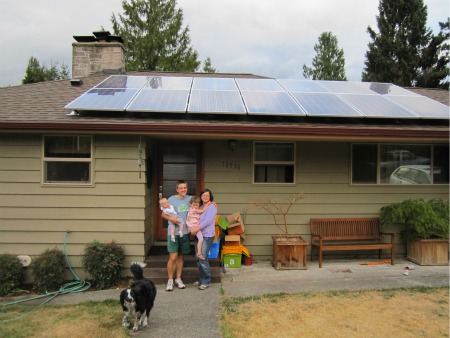 Learn more about solar panels at the Raker home, at 10530 11th Ave. N.E. in Maple Leaf, during the Tour of Solar Homes from 11 a.m. to 3 p.m. Oct. 1.
But don't stop there. There are 11 Seattle homes taking part in the tour, and they're all inviting you to take a gander at their solar panels and ask questions if anybody is home.
We'll let you know when Solarize Seattle: Northeast gets a little closer to starting its initiative in our ZIP codes, or you can contact them for any upcoming alerts.