Although the street mural of a turtle painted in Wallingford had the support of 100 percent of its neighbors, a similar proposal to paint the Maple Leaf intersection at Northeast 96th Street and 12th Avenue Northeast seems unlikely to be as popular with some of its immediate neighbors.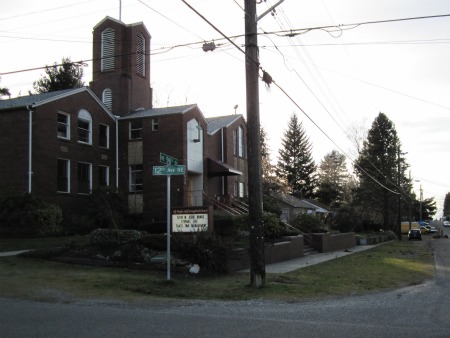 Maple Leaf neighbors are considering painting the street at the intersection of Northeast 96th Street and 12th Avenue Northeast.
At a meeting Sunday afternoon to discuss the project proposed by Maple Leaf artist Rachel Marcotte, who also is the artist behind the Wallingford turtle, a couple of neighbors who live on the intersection expressed concerns that the street mural would decrease their home values and lead to excess traffic on their block.
Marcotte originally proposed a mural closer to her own home at the intersection of Northeast 102nd Street and 12th Avenue Northeast, which was rejected by the Seattle Department of Transportation because of the roundabout already at the intersection. But instead of giving up, Marcotte proposed moving the project six blocks south to one of the street's few intersections without a roundabout.
"I love this neighborhood and this is the place where I want to live for the rest of my life," she said at the meeting. "As a member of the community, I want to be more involved with my neighbors and a sense of place with my community."
Marcotte explained that painting the mural, which would be a volunteer effort organized and maintained by the community, can produce that effect by bringing neighbors together to take part in the project, as well as creating a gathering area for neighbors. "I think it would be cool if we could create a new place that we can call ours," she said.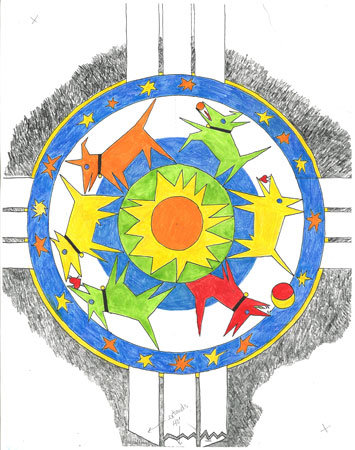 Maple Leaf artist Rachel Marcotte proposes painting a dog mural on 12th Avenue Northeast because of its popularity among dog walkers.
However, adjacent neighbors aren't so excited about having a gathering place right outside their homes, and are worried the mural could attract negative activity, such as the tagging at the turtle mural that a reader recently commented on.
Michael Sauer, a Wallingford resident involved with creating the turtle street mural, says so far the effect of the mural throughout the neighborhood has been mostly positive, and that he's noticed a decrease in the amount of cars speeding through the intersection.
"Cars definitely do slow down," he said, adding, "I look out my window every day with a sense of pride."
But neighbors opposed to the Maple Leaf project were more in favor of having a roundabout in the intersection, an idea Meg Stockbridge, a member of the Maple Leaf Community Council's executive board, said could take years to have installed, if at all because of the extensive traffic studies involved in the process.
Moreover, Marcotte added that a roundabout still could be a goal at that intersection even if the street mural project moves forward. "You can abandon the painting if it doesn't work and get a traffic circle," she said.
Street paint mixed with grit to add traction is used for street murals, but Marcotte said after the meeting that the murals don't have to be a permanent project and that they can be pressure washed away. In fact, a community in Portland does that every year with its own street mural so neighbors can paint a new design, she said.
But the Maple Leaf project still has plenty of hurdles to jump before anything like that can even be considered. The design still has to be approved by SDOT, then 60 percent of nearby residents have to approve the project for it to move forward. And in the meantime, volunteers are needed to get the project started, including gathering those signatures and being in charge of fundraising and applying for grants.
Bill Lindberg, who dealt with some of the funding issues for the Wallingford turtle, said that project cost about $600 that the city matched with its Small Sparks Fund. But some of the matching money came in the form of volunteer time (calculated at $20 an hour) and other in-kind donations, such as supplies, food and drinks that local businesses donated for the weekend-long painting project. Marcotte added that Maple Leaf's mural could be much less expensive because it's much smaller: The Wallingford turtle design is about 100 by 100 feet, whereas the proposed Maple Leaf mural would be about 50 by 50 feet.
If and when the Maple Leaf project gets to that point, Marcotte also is seeking volunteers to get the word out about the project, an engineer's help to transpose her design to street scale, shoppers to pick up paint and other supplies, and other organizers for the day of the project to keep it both on track and fun for everyone.
"I want somebody involved making sure it doesn't get too serious," she said, explaining that food, drinks and a block party-like atmosphere are an important part of the project.
To volunteer or for more information, contact Marcotte at rchlmarcotte@gmail.com or 206-522-4883.